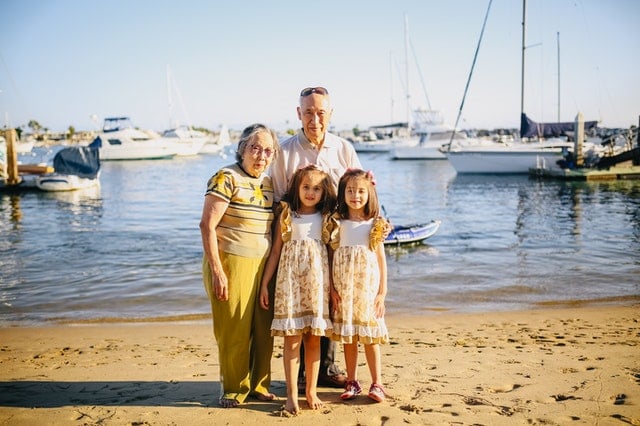 By Elizabeth Hewitt | May 23rd, 2022
For people living with dementia and their caregivers, planning a vacation can be daunting. But there are benefits to going on holiday and getting outdoors.
Here are seven things to keep in mind when planning a dementia-accessible outdoor getaway, according to an expert.
A woman whose husband is living with dementia once told travel expert Catherine Reed that she wanted a vacation, but didn't want to leave her partner temporarily in residential care.
"I want to go on holiday with the man I love," Reed recalled her saying, "but I just need that bit of support to do it." 
Reed is in the business of providing that support at the British charity Dementia Adventure.  As "head of adventure," Reed coordinates small-group and personalized vacations focused on outdoor activities across the United Kingdom, tailored for people living with dementia. 
Planning a vacation, especially one organized around outdoor recreation, may seem daunting for many people living with dementia and their loved ones. But, according to Reed, there are major social and emotional benefits, and with a bit of planning, trips can be fulfilling and fun.
"Giving people opportunities to do things, to have adventures, to have that bit of adrenaline" is the goal, she said. "I think we all need a challenge. We all need adventure in our lives, don't we?"
On Dementia Adventure's getaways across the UK, participants swim at the beach and walk the grounds of Queen Victoria's home on the Isle of Wight. They canoe and hike in the Lake District. They go on a zipline designed to accommodate people who are fully wheelchair-dependent in Northumberland. While on holiday, Reed said, the focus is not on dementia. 
"We're doing what people can do, we're not talking about [what] they can't," she said.
"We're doing what people can do,

we're not talking about what they can't."
The great outdoors
Research supports the benefits of outdoor activity for people living with dementia. Spending time outdoors and exposure to nature are linked to higher quality of life.
Being aware of people's interests and physical abilities is an important part of the planning process, according to Reed. On organized group trips, Dementia Adventure advertises the level of fitness needed, for instance the ability to walk half a mile. The organization also gathers lots of information from participants to accommodate their interests and hobbies, like sailing. 
On one trip, a man who had been in the merchant navy and who hadn't spoken in 18 months went sailing with his son, Reed recalled. When it came time to pack up the sails, the man wanted to go up in the rigging. The crew got him set up to do so, in a harness, and he packed the sails up perfectly. When he came down, Reed said, he spoke with his son for about 10 minutes.
 "It just opened something up, just for that short time, in his brain," Reed said. "You can't do that in your living room."
How to plan a vacation for someone living with dementia
When it comes to designing a trip independently, Reed said, planning can be a lot of work. But a few bits of guidance can help make a vacation stress-free and fun.
1. Be up front about dementia
Letting people know that someone in your party is living with dementia can help make sure you get support you need, Reed said. Hotels may provide extra sheets or other services. Staff in cafes and restaurants are often very accommodating.
2. Check out smaller hotels
In large chains, all corridors often look the same, which can be disorienting for people living with dementia, Reed noted. Smaller hotels often have more distinct features. Reed also suggested putting notes around the room, like marking the bathroom.
 3. Plan ahead, but don't overbook
Figure out in advance what activities to include in the itinerary, and book ahead of time. But try to avoid overfilling the schedule; Reed suggests booking activities to start around 11 a.m., not 8 a.m.
 4. Avoid busy times
Reed advises avoiding high season and weekends. Traveling on quieter weekdays or shoulder season usually means no crowds, fewer queues for the bathrooms, and less of a chance of over-stimulation. For particular activities or attractions, Reed suggests calling ahead to ask if there will be any large groups, like school field trips, at the same time because they can make an activity more overwhelming.
 5. Invite a friend
On Dementia Adventure trips, a staff member and trained volunteers come along with each group of four. If you're taking a trip as a duo with someone living with dementia, Reed suggests bringing along another companion. Having an extra set of hands can make the trip more relaxing. Someone can be with the person living with dementia while the other goes to get the car.
6. Eat a cookie
Plan plenty of breaks for snacks and beverages. Dehydration can be especially difficult for people living with dementia, Reed said.
 7. Don't put too much pressure on yourself
If the weather turns sour, or your traveling companions are tired, don't be hard on yourself, Reed said. Have a rest, call a taxi, and ask for help when you need it.