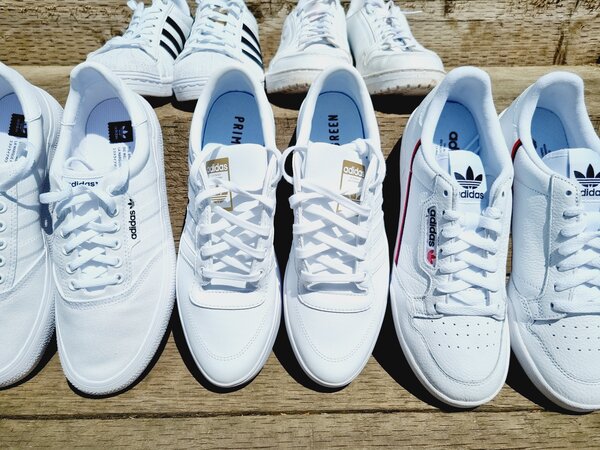 Despite being encouraged to declutter our wardrobes and live a more minimal lifestyle, there are certain key summer staples that in my opinion are non-negotiable, and a pair of decent white adidas trainers is one of those items.
As much as I love wearing flip flops and sandals in the summer months, there are two things that can put me off; 1- British weather is notoriously pants and trying to walk in soggy flip flops isn't easy, and 2 – my runner's feet are quite frankly a disgrace. Which is where the white adidas trainers come in. You see, not only do they hide my manky digits when I haven't got around to painting my toenails, but they are also super comfortable too, which as a middle-aged mum is totally where my priorities lie these days.
As part of my ongoing collaboration with the adidas bloggers community I've been given the opportunity to choose some items from their website and so it goes without saying that white trainers were at the very top of my list. In fact, I love them so much I've got myself 5 pairs!
Here's my pick of the top 5 white adidas trainers that are gracing my feet this summer:
Superstar Vegan Shoes
The original adidas Superstars were introduced in 1969 as a low-top version of the Pro Model basketball shoe. They were given the nickname 'shell toes' due to the distinctive rubber toe box, and this retro feature remains in this modern vegan version.
What makes these white adidas trainers vegan is that all parts of the shoes, including the glues and colours, are made without use of animal-based materials. Now, whilst I'm not vegan myself, there are indeed perks to be had from shoes that aren't made of animal products. For example, they are generally softer and therefore comfier, and they are also way better for the environment. And while we're on the subject of the environment, the smooth synthetic upper of the modern Superstars is made from Primegreen, a performance fabric made by adidas that only contains non-virgin plastics (as in it, has been used before or recycled). So, these are ticking some serious eco-friendly boxes!
The shoes are available in either Cloud White/Core Black, or in reverse, Core Black/Cloud White. But for the purpose of this article, I have obviously gone for the Cloud White/Core Black pair. I've always been a sucker for the adidas three stripes, teen me was rarely seen out of my trusty suede Gazelles, and I feel like these are my grown-up version. I like to wear my Superstars with a black jumpsuit or black wide leg 3/4 length trousers and a spaghetti strap vest for a summer evening down the pub. They look like I'm still vaguely 'down with the kids' (although I am aware that by using the term 'down with the kids' I am very much not down with them!) and best of all, they are soooo much easier to walk back from the pub in than heels.
These iconic shoes are £80 and also come with the option to be personalised for a small additional fee. A retro classic with a modern ethos – I love them!
NY 90 Shoes
You know how sometimes when you get a new pair of trainers you need to wear them in a bit before you get them feeling as comfy as you'd like? Well, these feel like someone's already done that 'wearing in' bit for you. They are super comfortable even from that very first wear and for that reason, I literally live in these at the moment.
They are available in 5 different colourways:
Cloud White/Cloud White/Cream White
Cloud White/Cloud White/Dust Purple
Cloud White/Cloud White/Calvi
Cloud White/Cloud White/Sandy Beige
Cloud White/Cloud White/Clear Pink (which is the option I've gone for – love those little pops of pink!)
Aside from comfort, I love the kind of vintage feel these shoes have. There's an effortless style to them that means they go with absolutely everything. From being dressed down in the daytime with denim jeans or shorts, going slightly dressier in the evening with a long skirt or floaty summer dress, right through to wearing them with my rapidly growing collection of adidas leggings, like I said… I live in them!
These classic court shoes are made again from a series of recycled materials and are priced at what I think is a very reasonable £65.


Bryony Shoes
These white adidas trainers are about as white as you can possibly go. With the white three stripes perched on top of a white background these triple white shoes are all about stylish simplicity.
The Bryony's are one of a handful of adidas trainers made specifically for women, meaning they have been made specifically with the shape and pronation of women's feet in mind. This makes for a comfortable, supportive trainer, but it also looks incredible too.
If you fancy straying away from the all-white look, they also come in 9 other colour combos:
Calvi/Supplier Colour/Crystal White
Cloud White/Supplier Colour/Clear Pink
Cloud White/Off White/Halo Mint
Core Black/Core Black/Beige Tone
Cloud White/Core Black/Gold Metallic
Cloud White/Clear Pink/Green
Halo Blush/Cloud White/Gold Metallic
Cloud White/Clod White/Purple Tint
Cloud White/Ambient Sky/Vivid Red
But personally, I think the summer is all about the white trainers.
Priced at £75 they can also be personalised for an additional fee. These are my grab and go staples; a simple, classic design that literally goes with everything. I love that I don't have to think too much about what I'm wearing with them because they go so well with everything in my wardrobe. Dress them up, dress them down – these are your new 'don't know what to wear' saviours.
3MC Vulc Shoes
Next up I've got a bargain for you. Who knew that you could get white adidas trainers for £50 and they're not even in the sale! Plus, these little beauts can be personalised for free, meaning you can pimp them up exactly how you'd like. The only canvas trainers in my selection, the 3MC Vulc's are lightweight and simple, making them the perfect summer holiday shoe. Yet despite their simplicity they throw a rather nice nod to the classic Gazelle's with their textured sidewalls, heel patch and raised three stripes to give a stylish laid back skater vibe.
With a reinforced canvas upper and an ultra-flexible vulcanised outsole (hence the name) the Vulc's allow for natural movement in the feet and because of the generous width of the outsole they can accommodate feet of all shapes.
They are available in 7 colourways:
Cloud White/Cloud White/Gold Met (pictured)
Cloud White/Halo Blue/Cloud White
Cloud White/Halo Mint/Cloud White
Cloud White/Grey One/Cloud White
Core Black/Core Black/Cloud White
Collegiate Navy/Collegiate Navy/Cloud White
Core Black/Core Black/Grey Two
A great casual summer shoe that offers more of a daytime skater vibe look, so think baggy jeans, skater skirts that kind of thing for a relaxed look to suit everyone.
Continental 80 Shoes
If you're looking for retro, then these are the ones for you. The adidas Continental 80 shoes are the modern twist on the classic leather trainers from the '80s and I am absolutely loving everything about them. For me, it's all about the little details. The soft French terry lining, the split rubber cupsole, the logo window, the crinkle effect leather, and the swooping two-tone stripe all combine to create the perfect nostalgic look that works so well with today's modern vintage style.
The Continental 80's will cost you £75 and again can be personalised. They are available in 3 colour combinations:
Cloud White/Scarlet/Collegiate Navy (as seen in photo below)
Cloud White/Grey One/Collegiate Green
Core Black/Scarlet/Collegiate Navy
What with the new season of Stranger Things hitting our screens, there is some serious throwback vibes floating around right now, and these bad boys totally fit in with the look of the times.
Wear with flared leggings/jeans and a crop top/batwing blouse or do what I do and wear with wide legged jumpsuits and long swishy dresses and an oversized bag.

The British weather might not have got the memo yet that it's nearly summer, but I'm not going to let that stop me from wearing all my summer clothes. Layers people, it's all about the layers. And of course, the white adidas trainers! Summer dressing is about casual, versatile, fun. I want to look like I've made a bit of an effort, but not too much of an effort, you know. Give me a floaty summer dress, a denim jacket for when it cools down ('cos it will!), all the bangles, necklaces, and hooped earrings, and a decent pair of white trainers and that is my summer look sorted.
*All products gifted by adidas for review purposes.