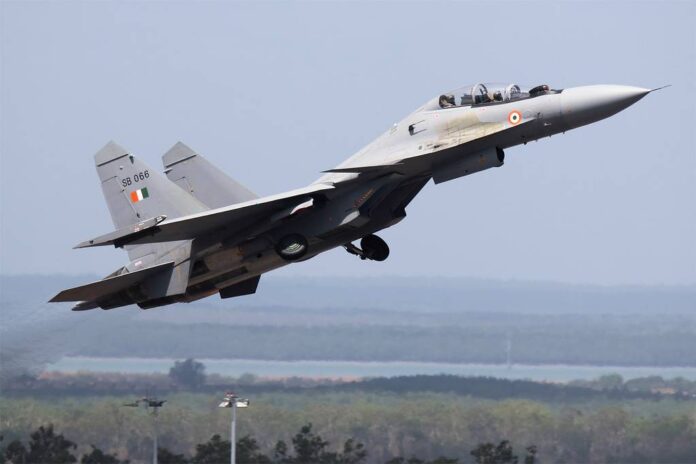 MELBOURNE, Australia — Indian Air Drive fighter jets have made their first deployment to Japan to participate within the long-delayed train Veer Guardian.
The occasion, scheduled for later this month, will see 4 Indian Sukhoi Su-30MKI Flanker multirole fighters prepare with the Japan Air Self-Protection Drive.
The plane landed this week at Japan's Hyakuri Air Base, 80 miles north of the capital Tokyo. Two Indian Air Drive C-17 Globemaster III airlifters and an Il-78 tanker accompanied the jets.
The C-17s transported personnel and tools for the train, whereas the Il-78 supplied refuelling help to the Su-30MKIs. The jets made transit stops in Thailand and the Philippines on their solution to Japan.
In response to a information launch issued by the Japanese power, the Su-30MKIs are from the Indian Air Drive's No. 220 Squadron primarily based at Halwara within the northern state of Punjab.
The Japanese individuals at Veer Guardian will embody the Mitsubishi F-2s of the seventh Air Wing and the F-15J Eagle interceptors of the Air Techniques Improvement Wing. The latter is the Japan Air Self-Protection Drive's aggressor unit, which performs the position of the enemy throughout coaching.
Veer Guardian was initially scheduled for 2020, nevertheless it was postponed because of the COVID-19 pandemic. The Indian and Japanese air forces had carried out bilateral fighter coaching in 2019, code-named Shinyuu Maitri in India. Veer Guardian is the reciprocal coaching occasion in Japan.
India and Japan had been additionally not too long ago a part of the Malabar naval train in November 2021 that concerned america and Australia.
India and Japan had additionally carried out the bilateral air and naval train JIMEX off the previous's coast in September 2021.
The 2 Asian nations have fostered nearer protection relations in recent times, and they're a part of the Quadrilateral Safety Dialogue — extra generally often called the Quad, a strategic safety dialogue that additionally contains Australia and america.
Mike Yeo is the Asia correspondent for Protection Information.